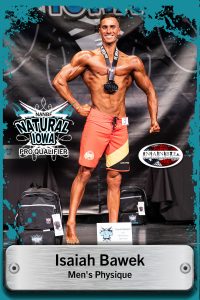 NANBF Natural Iowa Competitor Spotlight: Isaiah Bawek.  He won his IPE pro card at the 2019 NANBF Natural Iowa in the Men's Physique category earning his IPE pro card.  Below is his story to the stage and how he overcame obstacles and challenges to fuel his drive to compete.  You can see Isaiah's live FB video after his big win here:
FB video: https://www.facebook.com/naturaliowa/videos/2312326349093886/
Below is the rest of his story
WHAT MADE YOU DECIDE TO COMPETE?
Straight passion is why I compete and having the opportunity to step on stage at the NANBF Natural Iowa was an experience I will never forget. A dream that started back when I was 19 that came into reality the Spring of 2019.
WHAT WAS THE HARDEST THING ABOUT CONTEST PREP?
Passion, drive and having a burning fire that only competitors that are at the elite level would know. 21 weeks out from the Natural Iowa I took this prep and dedicated it to my father who committed suicide back in my younger years of life. I took the obstacles of fear, anger, pain and regret to the stage to fight for my pro card.
WHAT WAS THE BEST THING ABOUT COMPETING?
The best thing about competing was my number being called as the overall and receiving the pro card!
WHAT DOES IT MEAN TO YOU TO BE AN IPE DRUG-FREE PRO?
It's truly an honor to be called a natural pro and only being 24 has me hungry for the stage!
WHAT DO YOU HOPE OTHERS CAN TAKE AWAY FROM YOUR STORY?
I hope people reading this will be impacted in a way that they are inspired to break obstacles in their lives and to never let fear take control of you and the passions you have. Stand strong, take day by day and never quit.
For information on next year's NANBF Natural Iowa and how you can maybe find yourself in the Natural Iowa Competitor Spotlight, check out the 2020 information page here.