Michael Gholston Jr. won his IPE pro card at the 2019 NANBF Natural Iowa in the Men's Bodybuilding category along with a first place in the Classic Physique division.  Below is his story to the stage and how as a lifetime lifter and athlete, he found another outlet for his competitive side.  You can see Michael's live FB video after his big win here:
Below is the rest of his story:  https://www.facebook.com/naturaliowa/videos/601972856990965/
https://www.facebook.com/naturaliowa/videos/289533675317619/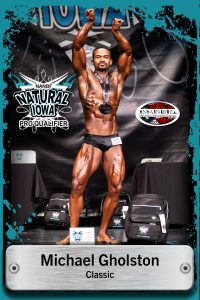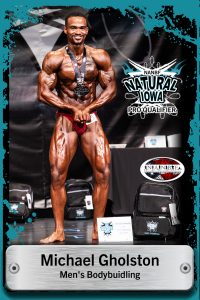 WHAT MADE YOU DECIDE TO COMPETE?
I've always had a passion for fitness. As a kid I did traditional pushups and sit-ups. I would even use a pool stick and slide plates on them to use it as a curl bar and pack weights in my backpack to carry while I mowed the lawn. I was "that kid". My father would take me to our local YMCA and worked me out from middle school to high school. He was definitely the one who helped me develop my love for fitness. I kept that drive and focus throughout playing college basketball and as a high school basketball coach today. Although I've always loved lifting weights, it was my wife, family members, closest friends and fraternity brothers who really pushed me into competing. They felt I had a natural gift and that I shouldn't waste it.
WHAT WAS THE HARDEST THING ABOUT CONTEST PREP?
I've played college basketball and I believe that preseason conditioning is the toughest physical act I've ever done but having to diet and go into a calorie deficit was by far the hardest mental task ever. I have two daughters under 2 years old so our house is packed with snacks and having to turn that down daily was extremely hard to say the least.
WHAT WAS THE BEST THING ABOUT COMPETING?
The best thing about competing is competing itself. Training to become the best, working to become a pro, and competing on the biggest stage against the best drug free pro's in the country. I haven't been able to actually compete in something really meaningful since college basketball, so being able to get back in this mode was very fun.
WHAT DOES IT MEAN TO YOU TO BE AN IPE DRUG-FREE PRO?
To be a Natural Professional Bodybuilder means so much to me. Miles and miles on the stair-master; reps and reps with the weight for one goal, to win! It was so fulfilling to accomplish my goal of becoming a pro naturally with sweat, determination and perseverance.
WHAT WAS THE BEST THING ABOUT COMPETING AND WHAT DO YOU HOPE OTHERS CAN TAKE AWAY FROM YOUR STORY?
To all the competitors, continue to give it your all in the gym. If you are working your hardest in the gym and doing all that you can to achieve your goal then nothing else matters. Not the other competitors or what they're doing, you are your only competition! Be a better you and everything else will take care of itself.