NANBF Natural Iowa Competitor Spotlight: Carter McMullen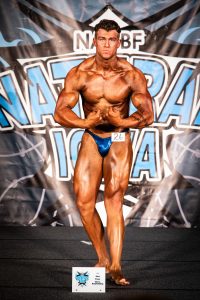 After making his debut at the 2019 NANBF Natural Iowa, he came back in a big way and won his pro card at the 2020 NANBF Natural Iowa in the Men's Bodybuilding category.  Below is his story to the stage how starting at an early age turned out to be a great decision for a promising competitive career in the sport.
WHAT MADE YOU DECIDE TO COMPETE?
I decided to start competing last year under Ryan Irwin who had coached me through the process of prepping for a competition in May of 2019. I wanted to see how I stacked up against competition at my age just turning 17 shortly before the competition.
WHAT WAS YOUR FIRST COMPETITION EXPERIENCE LIKE?
I had really tried to understand what it took to be up on that stage in front of judges and the blinding lights. I knew once I had finished the competition, (placing 2nd in the novice and 1st in the teen class) that if I had focused on being the best I could be instead of better than the individuals standing next to me, there was absolutely no limit to what I believed I could accomplish.
HOW WERE YOU ABLE TO COMPETE DURING THE PANDEMIC?
With this year being a strange one, training was difficult towards the beginning when gyms were closed, being creative in your training is essential and knowing what works for your body.
WHAT DOES IT MEAN TO YOU TO BE AN IPE DRUG-FREE PRO?
Becoming an IPE pro in men's open bodybuilding was an accomplishment that had been in the back of my mind since I had started lifting weights.
WHAT DO YOU HOPE OTHERS TAKE AWAY FROM YOUR STORY?
In the end its you vs. You, if one decides to take their training, dieting, and focus to a level they never had thought they could of done, then they already have achieved the impossible. What is and isn't possible only exists in the mind of that individual, I was just lucky enough to be surrounded by people who taught me to believe in myself and to never quit.
For information on next year's NANBF Natural Iowa and how you can maybe find yourself in the Natural Iowa Competitor Spotlight, check out the 2021 information page here.