Natural Iowa Competitor Spotlight: Nicole Morgan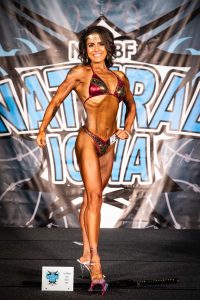 In her second competition season and moving categories from bikini to figure, Nicole Morgan hit the 2020 NANBF Natural Iowa and found herself not only in a new category, but also as the overall winner and newest pro card holder!  Nicole's journey to the stage might surprise you, and is a great example of what it's all about.
WHAT MADE YOU DECIDE TO COMPETE?
When I first decided I wanted to compete in a natural bodybuilding competition, so many thoughts were running through my head.  I had been overweight for a majority of my adult life, topping out around 225-230 pounds at my heaviest.  I also had two very young children.  My body was not perfect.  I had sagging skin, scars, stretch marks.  I remember someone once telling me, "you'll never be 'bikini model fit'".  Well…tell me once I can't do something, then stand back and watch me work for it!
WHAT WAS YOUR FIRST COMPETITION EXPERIENCE LIKE?
I had managed to lose a substantial amount of weight by the time I started my first prep, I was sitting around 135 pounds.  I had been following along with some at home workout programs, and making healthier food choices.  Every piece of credible research or literature I could find on clean eating and seeing "food as fuel", I was dissecting and absorbing.  I earned my group fitness instructor certification, along with several certificates in sports nutrition.  I knew if I was going to make this happen, it was going to come down to the detail…and nutrition would be KEY.
WHAT WAS THE BIGGEST CHALLENGE OF COMPETITION PREP?
I would say one of the biggest challenges of competition prep is adopting the mindset that it takes to dig.  It takes a "special kinda crazy", as I like to say.  It means letting go of ALL the excuses (and I mean 
ALL
 of the excuses) and doing what needs to be done, no matter what.  Prepping and tracking your food, taking time away from social gatherings and events, ignoring the looks and questions from friends and family ('cause even when they say they understand…sometimes they just don't).  Turning off the doubt and turning ON the determination.  Then keeping that fire burning, even when things get hard…and they do get 
really
 hard at times.  But I'll tell you, without hesitation, it is ALL worth it when you can look yourself in the eye and say "I 
fricken
 did it".
WHAT DOES IT MEAN TO YOU TO BE AN IPE DRUG-FREE PRO?
What does it mean to be a drug-free 
IPE
 Pro??  For me, it's about 
legacy
.  Knowing that every day I wake up with a goal in mind and will do everything I can to make sure when I go to bed that night, I have laid out my 
legacy
, and that all actions taken that day were in line with that goal.  It means that my two boys, though they may not fully understand now, will grow up seeing their mother as a fighter and warrior; and that THOSE attributes will be instilled in them for life.  This lifestyle is my passion.  It stems from a fire that spreads and grows; and fair warning, it is 
highly
 contagious (and no, that was not an intentional pandemic pun ha-ha).
WHAT DO YOU HOPE OTHERS TAKE AWAY FROM YOUR STORY?
If there is one take-away I would want for someone to get from all of this, I would hope it is just one word…FIRE.  Find your fire, find what lights you up, what drives you, inspires you…what FUELS your heart with passion.  Find that one thing that you can't go a day without.  Whatever that is, pursue it with reckless intentionality.  Feed your Fire, and never, ever quit.
For information on next year's NANBF Natural Iowa and how you can maybe find yourself in the Natural Iowa Competitor Spotlight, check out the 
2021 information page here
.