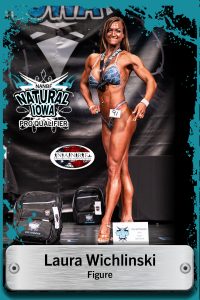 Laura Wichlinski won her IPE pro card at the 2019 NANBF Natural Iowa in the Figure category.  Below is her story to the stage and how as someone who had an eating disorder, the sport of natural bodybuilding helped her recover.
You can see Laura's live FB video interview after her big win here:   https://www.facebook.com/naturaliowa/videos/2387357327995527/
Below is the rest of her story:
WHAT MADE YOU DECIDE TO COMPETE?
My fitness journey began in 2008 after being diagnosed with anorexia nervosa. I was compulsively exercising. I struggled in and out of treatment for 4-5 years. I met a girl at my local gym who was a competitor and I picked her brain, inquiring about a coach, etc. In 2013, I hired my first coach and fell in love with bodybuilding and ditched the cardio. I loved everything about it: the strength, the core muscles, the wobbly legs, the sweat and burn! I quickly saw my muscles develop and body fat drop. I knew I wanted to compete as part of my journey, from ED to stage. After competing on and off and meeting different competitors I wanted to earn my pro card.
WHAT OBSTACLES DID YOU OVERCOME?
I knew I had caused my body a lot of internal damage from my ED and on a hormonal level. I knew I wanted to stay natural and take full 100% pride in nothing but hard work and a strict diet. No diuretics, no steroids, no prohormones, just my work. I did my research on coaches and believed John Gorman was the best one out there. I had been listening to his TNT podcasts and read his books, and he was so knowledgeable and honest.
WHAT WAS THE HARDEST PART OF CONTEST PREP?
Working with a coach has been the best decision I ever made. He truly knows what he's doing, I feel comfortable and honest with him. Don't get me wrong though, there were some trial and error. It wasn't sunshine and rainbows 24/7. The hardest part of my prep was really trying to remain relaxed. I work two jobs in highly stressful environments, foster dogs, volunteer at the shelter, and hit the gym daily. Time and I was wearing thin. I really had to prioritize my life and try and cut out any extra unneeded stress. I really put an end to my social life in prep, needing as much sleep possible.
WHAT DOES IT MEAN TO YOU TO BE AN IPE DRUG FREE PRO?
The thing is I wouldn't change any of it for the world. There will always be more holidays, outings, etc. This is the greatest achievement I've earned and so very humbled to have it. I got to share the stage with so many amazing women; it was an experience of a lifetime.