I am a 44 year old wife and mom of 2 teenagers who has always been active and invested in fitness.  In my 20s and 30s I competed in many running races and triathlons and taught various fitness classes at local gyms.  A few years ago a friend told me about her experience competing in a body building competition and my interest was sparked.  I thought this would be the next fun challenge for me… so I signed up for the bikini category in the NANBF Natural Iowa 2016.  (It is important to me that I compete against and encourage athletes who are training naturally, who are training their God-given bodies rather than potentially using performance enhancing drugs, so that is why I chose the "natural" show.)
I loved that experience, but my body built muscle quite easily, so I decided to do the show again the
following year, 2017, in the figure category.
Bikini 2016 and Figure 2017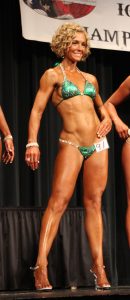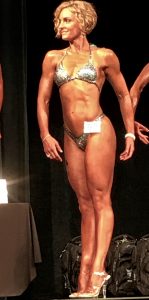 What obstacles did you overcome?
What motivates me now to stay fit is very different from what motivated me when I was younger.  I battled body image and eating issues for a long time, so nearly everything I did- fitness included- revolved around that.  After realizing I have been given this body to take care of and to use, staying healthy and strong so I can do the things I am called to do is what drives me.  I also want to be a great role model for my teenage daughter and son.
What was the hardest part of the prep?
The hardest part of the prep was eating clean.  To me, sugar is like a drug.  I really struggle with staying away from those sweets!  (but when I do stay away from them, I feel so much better, physically, mentally, and emotionally.)
What was the best thing about competing?
The best thing about competing is the camaraderie with fellow athletes back stage.  True (but very embarrassing) story:  After coming off stage from a long time posing in one category and preparing to go back on stage for another category, I was super sweaty.  A gal back stage came running up to me with a towel saying, "Hold still!  You look like you have molasses running down your back!"  Ha!!!   Spray tan and sweat are not a good combo.
What do you hope others can take away from your story?
I hope that women, no matter their age, feel inspired to challenge themselves to stay healthy and strong, honoring their God given bodies, and giving Him the glory in all they do.