Kelsie Eckdahl is the 2017 NANBF Natural Iowa Open Figure overall champion and IPE Pro Card winner. Below is her insight when asked about her prep for the 2017 Natural Iowa.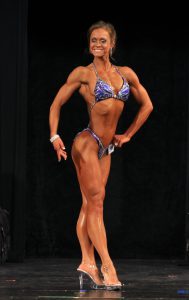 What made you decide to compete?
Bodybuilding started out as one my bucket list items that sounded kind of cool but I thought I could never do it. Then I met my coach, Dusty Olson, and he talked me into doing my first show. I love being in the gym, I'm a very regimented person, and I love a good challenge, so I figured doing a show would be a good fit. I soon discovered that bodybuilding is far more mental than it is physical.
What was the hardest part of the prep and what obstacles did you overcome?
During prep there certainly were times where I was very hungry and fatigued, but the real challenges were making myself finish my workouts when the gym was the last place I wanted to be and continuing to tell myself that I was going to be ready for stage.
What was the best thing about competing?
All the difficult parts of the prepping process were completely worth it after I stepped off the stage for the first time. I was completely hooked on the high that comes with competing. I decided to continue my journey as a body builder and see how far I could take it. Off season brought challenges of it's own that I was not prepared for. I'm certainly not immune to body image issues or struggles with food, and coming off a show seemed to amplify those issues. It took me many months to become comfortable in my own skin again and accept the fact that what I look like on stage does not define me. After my first show I competed in 4 more shows over a 3 year time span until this past Spring of 2017 when I became IPE figure pro. It was a surreal experience to know that I had worked hard for years and finally accomplished something that I used to think was impossible. I give all the glory to God for bringing me on this journey and I plan on continuing to compete as long as I can.
What do you hope others can take away from your story?
My advice for other competitors would be to make sure that your competing for the right reason first and foremost. Compete because you love the sport and want to better yourself each time, not because you want to fix the way you look. Second, be sure to separate your stage package from your identity. You are far more than what your body looks like. Lastly, believe that anything is possible. No matter how small or insignificant you feel, you have to power to accomplish whatever you put your mind to!